Kenton County, Kentucky Piano Tuning
FRANK RENFROW PIANO TUNER-TECHNICIAN
YES I STILL DO PIANO TUNINGS! (Updated Autumn of 2017)
I HAVE NO PLANS TO RETIRE!
Best way to reach me is by email at
2nd Best way to reach me is to text or call my cell phone at:
859-653-1460
If you call me I may not answer my phone immediately
but will endeavor to answer your voicemail message
as soon as possible.
Serving Greater Cincinnati and Northern Kentucky.
Now celebrating 42 years in the profession
11 years with Baldwin Piano Company in Cincinnati, now independent.
Steinway dealership trained with state and federal certification.
Services Include:
REPAIRS, minor repairs and adjustments including:
pitch raises, action adjustments, action regulation, individual string replacements and pedal adjustments. Experienced in all facets of both vertical and grand piano regulation and repairs.
INCORPORATING a lifetime of experience in diagnosing and resolving problems with sticking and sluggish keys.
Pianos for sale:
PIANOS FOR SALE - I am now closing out my Antique Steinway Piano, Pianoforte and Fortepiano collection of considerable historic interest. I have only small number of pianos left in my collection, and I can give interested buyers, very good deals on these!
You can find the pianos I currently have for sale at: Antique Steinway Pianos & Early Pianofortes for sale
cincinnati piano tuner northern kentucky piano tuner technician service repair N KY piano Cincy piano Cinti piano Cinci piano Fort Thomas piano N KY Fort Mitchell piano N KY Anderson Twp piano OH Hyde Park piano OH Hebron piano N KY Burlington piano N KY Union piano N KY Clermont piano OH Indian Hill piano OH Montgomery piano OH Cold Spring piano N KY Terrace Park piano OH Independence piano N KY
Pra á Grenoble: A 1792 Pianoforte built in Grenoble during the French Revolution.
This unusual pianoforte incorporates features with both English and Germanic elements, similar to some Swiss Pianofortes of the period. Very similar to the standard Zumpe-style English squares in basic form, this instrument diverges in having three unique knee controls consisting of circular stops rather than hand stops. It also retains the reverse keyboard arrangement of ebony-topped naturals and ivory-topped accidentals seen in the earliest Zumpes and also still present in the German, Swiss and Viennese fortepianos during the late Eighteenth Century.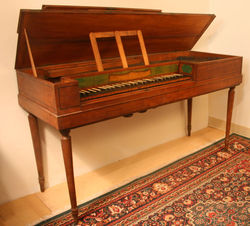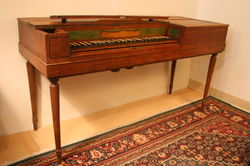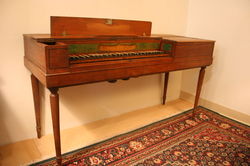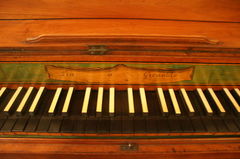 Another unusual feature of this pianoforte is the lay-out and dual composition of the action. Although the piano has a FF - f3, 61 note keyboard compass, it contains a Zumpe-style action with only a 57 note compass. The top four keys in the treble section actually use a modified Viennese-type action (but intro oriented rather than retro oriented), with the hammer assemblies being directly connected to the keys by a wooden kapsel. The hammer assembly consists of a very delicate wooden lever which pivots in the kapsel. What type of hammers (now missing) were glued on the ends of these levers is a matter of conjecture,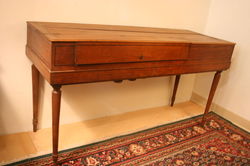 but they were probably very tiny and leather-covered . In the technical terms of early pianoforte design, the first 57 notes on this pianoforte are intro Stossmachanik whereas the top four notes are intro Prellmechanik. As the earliest Zumpe pianofortes did have a 57 note compass, one wonders if this previously unknown provincial maker (possibly with the surname "Pra" was supplied with an outdated action and added the extra four notes in order to be up with the times as far as keyboard compass was concerned.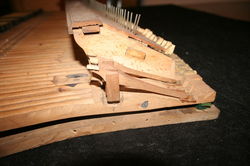 An unusual dual action design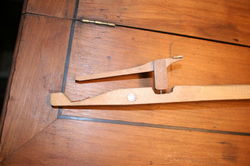 Intro prellmechanik key with kapsel
To have your own precious home piano tuned:
Call or Text Frank Renfrow at 859-653-1460
Email: frankrenfrow@aol.com